Last month we mentioned that that we're running the Green Web Fellowship programme this year, and that we'll be introducing the people helping create it over the next 12 months. For length of the project, Michelle Thorne of the Mozilla Foundation is working with us, and will be applying her years of experience "working open" to help us create a syllabus around embedding principles of climate justice in the work of technologists. In this post, we explain why we're excited to have her aboard.
Meet Michelle
Over the next months, if you're on any of the public facing virtual meetings or workshops run by the Green Web Foundation, there's a chance you might see this face in the corner of a zoom window or similar.
You can see a more complete list of projects and publications she's worked on if you visit her own site, and she's been writing about web literacy and the green web for a while too, but below we'll outline a related few projects she's worked on, to give an idea of the kinds of ideas we've been looking to for inspiration for the creation and use of the green web syllabus.
The mozilla clubs open learning programme
As we said before, there's no one correct way to teach about how issues around climate, and specifically climate justice should relate to the practice of how we build the digital services.
That said, there are common patterns – if you looked at groups across the globe trying to wrestle with the issue, you would see common issues, like where pollution created from building digital services goes, or who gets a say in who they are built for.
But you'll often see much of it is contextual. We've been influenced by ideas in the clubs programme, like creating a professional learning network to create a free, open and educator tested curriculum, but matching that with a ground game to allow for customising it to for local contexts.
Museum of the Fossilized Internet
If you care about there being a sustainable internet, and it acting as a lever for climate justice, then it helps to start a conversation about what it might look like in the future, and be able to work backwards. But of course, these are huge topics, so the creation of the museum was a way to begin this journey:
"To explore something so big, we first made it very small." — Gabi Ivens, creative lead and miniature maker
Built at an accessible scale, The Museum of Fossilized Internet is a research object that helps surface the major contributors to the internet's pollution but also serves as a tool for people to navigate questions around the climate crisis, and highlight some of the practices we might leave behind, or issues we know we'll address in the coming years.
Branch Magazine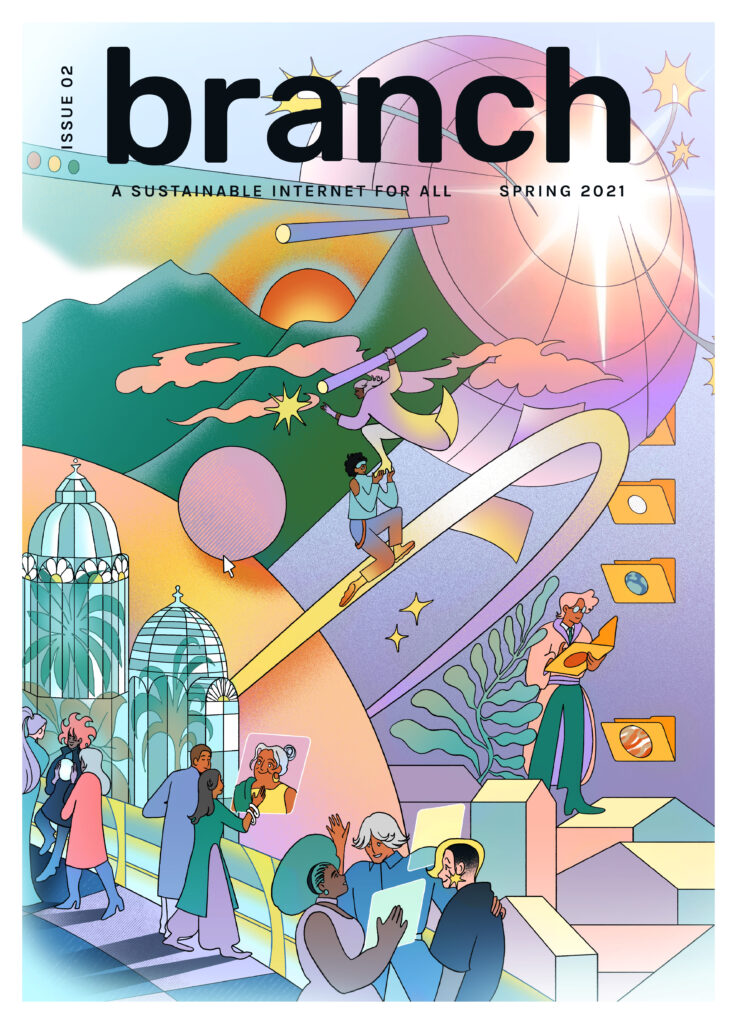 Branch magazine is an Ars Electronica award-winning publication that the Green Web Foundation has been managing the production, and publishing of over the last year.
It serves as a way to describe a future vision of a more humane, advanced internet, and catalogues some of the most interesting and inspiring work in this growing field.
In relation to the creation of our syllabus, it's a useful reference to make sure what we include refers to the state of the art, but also the structural issues being explored by academics, industry and activists and policymakers alike.
Up next – introducing our fellows
In future post for this series we'll be introducing our fellows, with short Q & A style interview posts, before they start blogging here as they chronicle their learning, and experiment with creating various tools to explore this field.
As ever, you can subscribe to our web feed with a feed reader, you can join our newsletter, or if you prefer, follow us on twitter at @greenwebfound for more.