The Green Web Foundation is the publisher of Branch Magazine, a magazine by and for people who dream of a sustainable internet, as well as the Towards a Fossil Free Internet series of reports.
Report Series – A Fossil Free Internet By 2030
From 2022,the Green Web Foundation is publishing a series of reports around the subject of transition of the internet from fossil fuels, and digital sustainability. The Fog Of Enactment is the first of the series.
Sign up for updates the series Towards a Fossil Free Internet via email, or subscribe to the RSS feed.
Branch Magazine – a magazine by and for people who dream of a sustainable internet
The Green Web Foundation also publishes Branch magazine, a collaboration with the climateAction.tech community. Twice a year, Branch magazine brings together writing, and other creative output from developers, designers, campaigners, and policy makers, to act as a snapshot of what's important and interesting at the intersection of climate and tech.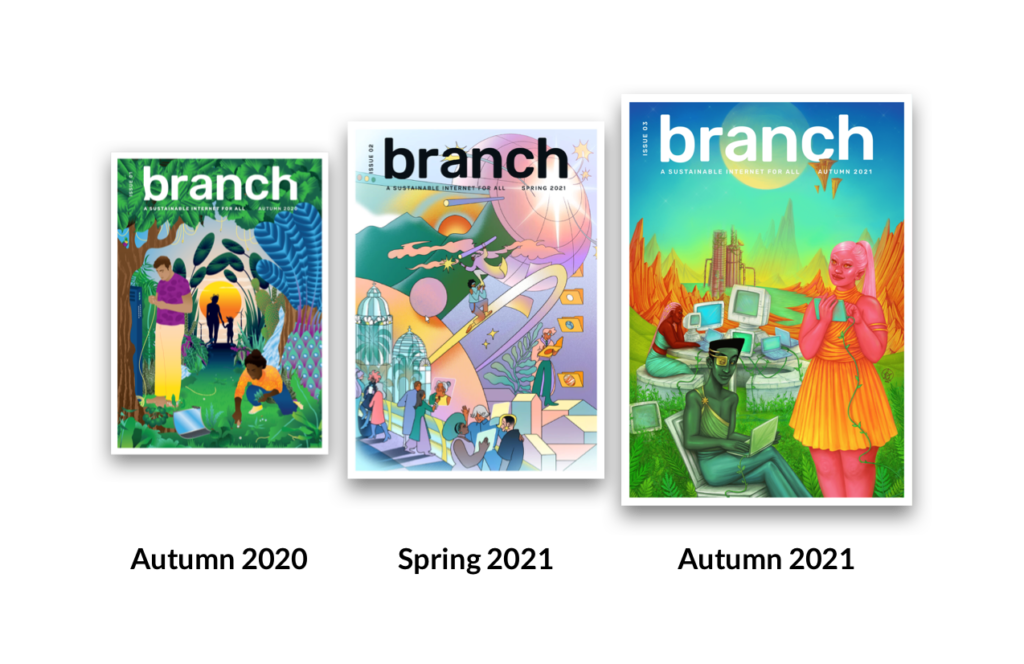 Position Papers and briefings
In 2022, we began authoring briefings and position papers as a response to calls for participation from governments, industry bodies, and similar groups.
In November 2022, we write worked with academics and industry specialists on our first paper, Extending IPv6 to support Carbon Aware Networking, as a response to the Internet Architecture Board's workshop on Environmental Impact of Internet Applications and Systems, 2022.
It was accepted, and the ideas discussed in the workshops are feeding into our Green Web Studio innovation projects.