How can we work towards a just and sustainable internet in a more holistic way? And how can we gather and curate knowledge about these issues so that others can benefit from this process and build on top of it?
We are excited to announce the newly organized Green Web Library: a collection of journal articles, reports, websites, initiatives and other recommended resources about a just and sustainable internet. The library covers topics ranging from  digital rights, climate justice, digital sustainability, technologies' environmental impact, green coding, energy, mining, and much more.
How we started
Initially, the resources were collected by the first Green Web Fellowship cohort as a way to learn collaboratively. Since then, we have continued to add more resources to it and have further shaped the library with the Green Web Foundation's network. In this blog post, we will explain what's in the Green Web Library and how to find your way around it. Also, we'll share some practical tips on how to use Zotero, an open source citation tool.
Why we're sharing this
In our experience, we noticed two patterns when people begin exploring the intersection of climate justice and technology:
One can get overwhelmed and not know where to start or where to look.
It is often challenging to grasp the history and depth of existing research, because this intersection is a complex, multidisciplinary space that is also evolving rapidly.
The Green Web Library tries to address these issues by collating resources together and providing curated lists of content that our network has found useful. This way, you don't have to start from scratch and useful references are within easy reach.
Please keep in mind that the Green Web Library is not a complete literature review, but a living collection. These subjects are still relatively new and evolving quickly. New resources will be added, and new categories might emerge. If you have any questions or suggestions, don't hesitate to get in touch through our support-email. We hope the Green Web Library will inspire you and others to explore work on a just and sustainable internet.
Getting Started
Currently, we've organized the resources into four main themes:
Technology: Technology's climate impact; ranging from cryptocurrency and data centers, to supply chains and e-waste/repair, to solutions like green software design.
Climate Justice: Climate justice principles and the intersection of digital rights and climate justice; ranging from climate justice definitions, human and environmental rights abuses to climate activism and reparations.
Open Practices: Open data, open source, and open education
Digital Rights & Ethics: Intersection of technology and society, as well as principles to counter negative impact.
The other smaller subjects are listed alphabetically below the main themes (see screenshot).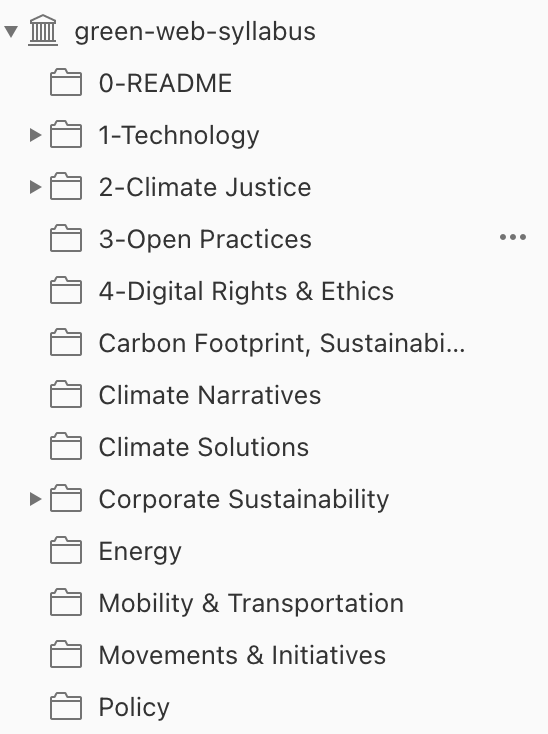 Each folder has its own readme note at the beginning, starting with an " = " so that it sorts alphabetically. The note describes the category in more detail.
We acknowledge that there is a lot of overlap and interconnection between these subjects, so we deliberately decided to let go of the understanding that everything fits into a single, clear category. This is why some items are in more than one category.
New to Climate Justice & Technology?
If you're new to the subject of a "just and sustainable internet", we recommend exploring the Technology and Climate Justice folders first. Find something that piques your interest and start wandering. Give yourself time to try on different ideas! These are complex topics and many of the resources challenge dominant narratives regarding tech and sustainability.
Zotero Tips
If you're new to Zotero, here are a few tips:
Use the search bar if you have a specific topic in mind. Search is limited to the folder that you're in: https://www.zotero.org/support/searching 
Tags can be viewed on the bottom-left, and are auto-created from document metadata. Zotero documentation: https://www.zotero.org/support/collections_and_tags 
Each folder has a Readme note, describing its contents. The notes start with "=" so they are at the top, when sorted alphabetically.
New items that have not been filed can be found in x_inbox

Zotero's full documentation can be found at zotero.org/support
Does this sound interesting? Do you have suggestions to add to the library? Do you want to learn more?
Let us know if you use the Green Web Library in your studies and projects. We would love to see what you're working on! We also welcome feedback and resource recommendations. Send your thoughts via our support form.
Also, don't forget that we have more work on this topic, such as our Branch magazine and our report Towards a Fossil-Free Internet: The Fog of Enactment.

Finally a big shout out to Melissa Hsiung for caring for and maintaining this library, thank you!