This week, is #letsgreentheweb week – part of a campaign organised by ClimateAction.tech, to raise awareness about environmental impact of digital services we rely on, and constructively engage with the subject. Read on to learn more about the campaign, and the new dataset browser we're released to support it.
So, if you're on this blog, you've probably figured out that the internet runs on electricity, and yes, that electricity has to come from somewhere. That somewhere, more often than not tends to be fossil fuels. Given the fact that we're in a climate emergency, burning fossil fuels to run our digital infrastructure really is something we need to leave in the 20th century, and move away from.
However, even if you run your own servers on green power, there's still the rest of the internet you need to be aware of when using digital services. If you want to tread more lightly there, then one thing that can help is to design like you're aware of the carbon being burned to use it.
How to check that a website has been designed with this in mind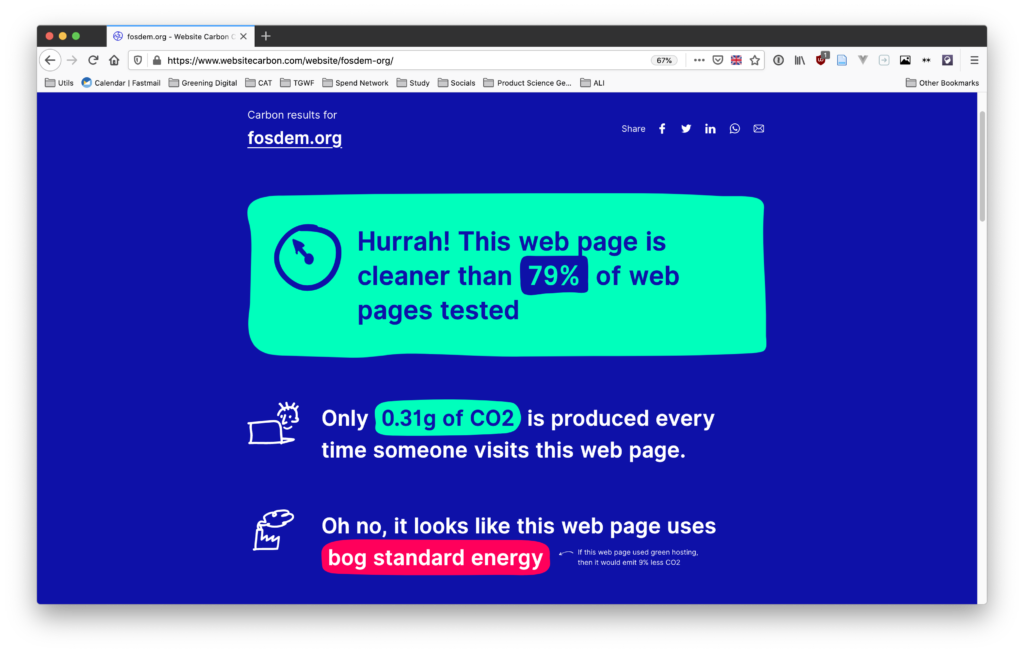 One the easiest ways to do this, and to communicate why this might be important is to try checking a site you like using the natty website carbon service provided by the nice folks at Wholegrain Digital.
Website carbon works by looking at the website you've entered, and running some calculations on the page size, and who it's served with to give an estimate of carbon emissions from loading the page.
Under the hood, it uses the google page speed API, and every domain is checked against our database, to work out the figures you see.
What to do next
Website carbon lends itself well to sharing results, but once you have figures, what next?
We've listed a few below:
If you're just getting started, there's now some useful guidance on the actions section of the ClimateAction.tech website.
If you learn better from books, then Tom Greenwood's recent Sustainable Web Design, came out last week. We had read an early copy, and we're fans. Go check it out.
If you have 25 minutes spare, and you're a developer, Building a Greener Web fits as much information as we could about the links between web performance and climate impact – we delivered the talk in the FOSDEM web performance room, and you can visit our special page for the full video, the slides with references, and a searchable transcript of the video.
If you want to stay up date, our we share links, analysis, and advice in our own newsletter, Greening Digital. It's in the footer of every page, but you can also follow our sign up link too.
Tracking progress
If you're going to take part in a campaign about greening the web, it's useful to know how we're collectively, in working towards a greener web.
And earlier, we mentioned about how we publish datasets regularly about the state of the green web.
Today, we released new dataset browser, to make the underlying data that website carbon used easier to browse, run analyses on and build on top of. We used the fantastic datasette project to publish this information – so in addition to having browsable dataset, you can also easily download subsets of the data. You can do this in CSV form, or JSON to carry out further analysis or building your own tools with it.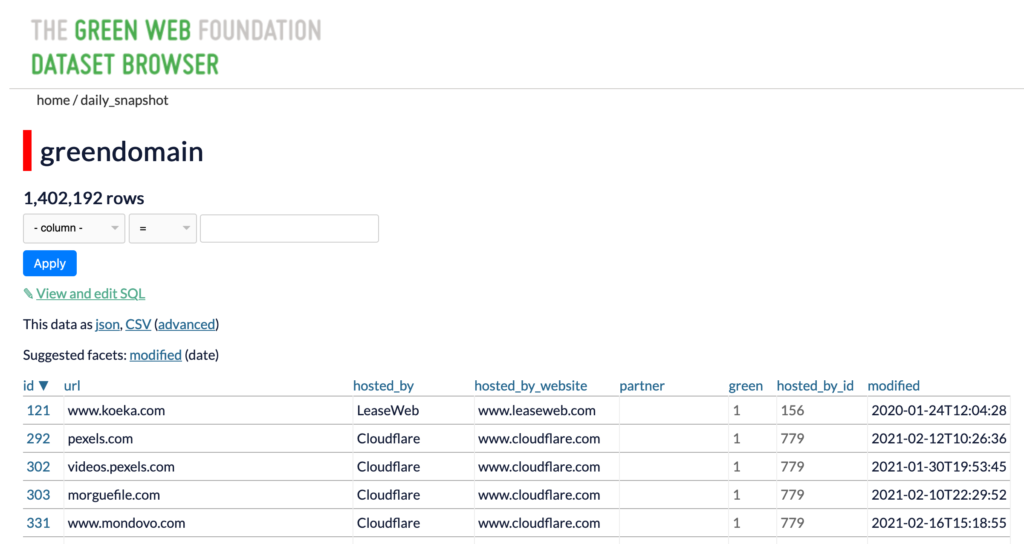 Further analysis
We're looking to release more datasets in the coming months, and build a new version of our directory – if you build digital services, we want to make it easier to understand your own digital supply chain, and what steps you can take to make it more climate friendly.
Working with the Green Web Foundation
If you're not sure where to start when it comes greening the web, it might be worth taking a look how we can help. We can offer audits, training, and all of our tools and software we make available with permissive licenses, and for free.
If you're already working to build a greener web, then consider partnering up, so the ways you an help can be listed in our directory.
We currently cover hosting, but in the coming months, we'll be expanding to list services up and down the stack.
Doing so is entirely free – but if you want to support our work, consider partnering up, so we can keep publishing the data, tools and other materials to help on the mission to sustainable internet for all.